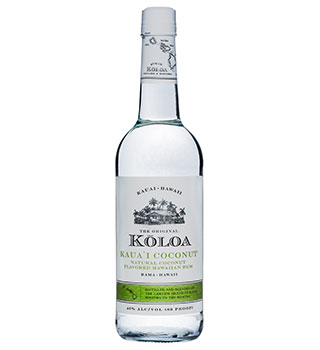 The Schtick:
"Koloa Coconut Rum is made from the mash of raw Cane Sugar, distilled in an impressive vintage 1210 gallon steam powered copper pot still and cut with filtered water from the ancient Mount Waialeale." – Koloa Website.
---
Distiller: Koloa Rum Company
Bottler: Koloa Rum Company
Brand: Koloa Rum Company
Selection:
ABV: 40% ABV
Age: NAS
---
Nose: Sweet vanilla, coconut, faint anise, nice light coconut character with a light sweetness. Smells like natural coconut, not artificial coconut garbage.
Taste: Thicker mouthfeel, no heat. Really nice coconut character here – its easily the most prominent note here. Again, not syrupy sweet – it is effervescent and light, very natural. Light butter cream, faint lime zest, hint of plantain. Overall, its very natural and thats a great thing. Doesnt taste dramatically dosed.
Finish: Fairly long for the proof, lots of coconut.
Overall: This would make fine cocktails. I really enjoyed this because of how natural the coconut influence was – complete opposite of Malibu related products and in the best way. This would be great for adding nice character to cocktails.
Thanks for reading!
Rank: 6
---