t8ke x Dancing Goat Presents
Introduction
If you guys have been around in the program for the last year or so, you know about the fun releases we've done with Dancing Goat in the past. Some have been high age, we've done bourbon and rye and high malt, we've done insane finishes (cherry bitters!!) and today I'm really proud to announce a furthering of that partnership.
2023 launches, officially, Dancing Goat x T8ke Wheat Whiskey, which is a multi-chapter, multi-year release in motion. All of the single casks you know and love will also be continuing, but I've been working closely with the entire Dancing Goat team to launch something that I just didn't see in the marketplace, and something I really wanted to bring to whiskey drinkers everywhere.
The Dancing Goat team is really near to my heart, in that they are distilling incredible whiskey and gin, and also sitting on a treasure trove of old, sourced stocks, and releasing them to market at prices you just can't find anywhere else. Their team is made up of the best people I know, and when we get together to get shit done, I often forget we're working. It's rare a producer is 30 min from my office, so when something cool comes up, I hop in the car and check it out. It also makes proofing casks and batches easy, as I can check in on them on my schedule. That's invaluable.
Releases I & II
The first two chapters in an entirely new creation comes to life, as I announce A Wheated Welcome, and Older & Bolder: 2 different, single cask, wheat whiskey releases that are aged 8 and 9 years old, the first in the Dancing Goat x T8ke collaboration series.


Nick (above) and Sean from Dancing Goat and I (also above, duh) got talking about this project way back when I was selecting early casks for our program. Nick is the larger than life force behind Dancing Goat distillery. Sean is the man who keeps the entire operation on the rails. They are running so many interesting mashbills and their passion for creation is unparalleled. The entire team there is a scream.

When one of my favorite Wisconsin gin producers (Death's Door) went under, they purchased the entire distillery and brought in house and kept the brand going. If you have a chance to try Death's Door gin, do it. It's truly the tops, and this program has nothing to do with gin, so you know I mean it.

Back to the whiskey: We spent the better part of a day proofing through lots of bourbon, rye, [redacted] and finally some wheat whiskey in a standard hunt for banger single barrels. But, the wheat whiskey hadn't been earmarked for anything. I fell in love. I asked to try every wheat whiskey sample they had pulled. So, we tried them all. Oh did I have ideas.

This stuff was special. It was like Bernheim with wheat dialed up and the tannins locked in place. It was proofed just right – high proof but not haphazardly overproof like tons of the light whiskey coming down from Canada. Also something I had been wanting from Bernheim for years – more proof. This was distilled at MGP, employed a super high wheat content at 95% and was matured in used cooperage for 8 years. Older & Bolder was aged for 9 years.

A lot of people look down on whiskey produced with used cooperage, while also forgetting the entire Scottish whiskey industry exists. Used cooperage is vital to extended, really graceful aging. It's a critical component of releasing well aged whiskey that balances complexity with tannin, base spirit flavor and the filtering and mellowing that years and years in a barrel bring. There's a lot of truth to the fact that if you overage bourbon whiskey, eventually you have nothing left. It's all motor oil and tannins, no real flavor to speak of. And, it gets expensive. AF. I also dig the sustainability element, in which we continue to help ease a growing, nationwide, new barrel shortage.

If you guys have heard me talk for any length of time in this barrel program, on Weekly Whiskey, or the Whiskey Raiders Podcast, you know that my biggest turn off to a whiskey is aggressive tannin that covers up the complexity and profile of the whiskey itself. That's a liability when aging here in the US environments like Kentucky, Texas, Wisconsin, Tennessee and large swaths of the country that see similar temperature and humidity swings, especially if you're trying to get old whiskey. Real old.

I've had the undeniable privilege (and it is a privilege) to spend a great amount of time with whiskey producers all across America, into Ireland and across Scotland in the recent years. From zoom calls, in person meetings and trips, seminars by some of the industry's best, and good old fashioned time listening to master distillers and warehouse managers talk, I've tried to absorb whatever i can.

There's a lot to absorb. I don't know 1% of what they do, but years of listening has instilled a deep question in my brain and a hypothesis I knew I wanted to test. Often times, to a fault, I prefer to take the slow road. On anything. So, it's no surprise that for my first official partnership with a distillery, I'd take the slow road here as well. So, we're going to watch as wheat ages in used cooperage, slowly picking up tannin and developing gracefully with a high high high wheat mashbill for years to come.

This is the first chapter in a years long project to tap into, and unveil how wheat ages. It's all about the wheat. It'll always be uncut, unfiltered, pure barrel proof whiskey and we're going to release it in a continuing series. This whiskey is meant to age, and there's a reason we're starting it at 8 and 9 years, rather than 3 or 4. It's well aged already and showing beautifully, and together, we'll watch as these wheat releases pick up greater and greater age. This is the perfect starting point, and together we'll experience maturation first hand for the next many years.

Together, we'll learn when wheat hits its perfect stride. I won't pretend to know what it is today. That's for us to discover together.

The labeling is produced with transparency as the first priority. This is sourced whiskey. Dancing Goat and I are proud to present it. It's whiskey distilled from a wheat mash designation due to the used cooperage. Naming and quotes come from me, my name's on it so you know I picked it. Cask number is on the back so y'all can track it in your spreadsheets, as is the wheat mashbill, and ABV's are handwritten in so that when we pull ABV the day we run the bottling line you get the exact ABV on label, not an estimation from weeks before when labels are run through printer. State of Distillation and Bottling are clearly noted. It's all there, because it's how I'd want it to be, and Dancing Goat made it happen.

Many of you also are aware of my obsession with democratizing whiskey. Every week is a lottery in our program. Whether you make $10,000 a year or $1,000,000 a year, your odds are always the same. My love is speaking about whiskey and sharing it with anyone I possibly can. I want these releases to reflect that, so anyone who shares an interest in the project can take part. Dancing Goat shared that vision and have at every turn. These releases will be priced at $59.99 each.

Without further ado:

Release I: Dancing Goat & T8ke Present – A Wheated Welcome 8 Year Wheat Whiskey
ABV: 57.6% ABV
Age: 8 Years, 8 Months
State of Distillation: Indiana, USA (MGP)
Bottling State: Wisconsin, USA (Dancing Goat)
Mashbill: 95% Wheat, 5% Malted Barley
Info: Cask Strength, Unfiltered, No Additives, No Coloring
Tasting Notes: Sweet and buttery, the inaugural cask features sweet caramel, clove honey, pancake syrup and soft, sweet oak. There's a touch of pepper alongside the sweetness, pleasant baking spice, waffle cone and clove. The palate is viscous and favors sweetness over spice or dryness. The finish is long, full of flaky pastry, brown butter, savory tobacco and a pleasant combination of waffle cone and wafer candy. It's light on tannin and it's meant to be, brown sugar combines with well integrated ethanol for well proofed pour. Welcome to the wheat show.
the second release, just as important as the first release:
Releasee II: Dancing Goat & T8ke Present – Older & Bolder 9 Year Wheat Whiskey
ABV: 61.8% ABV
Age: 9 Years, 5 Months
State of Distillation: Indiana, USA (MGP)
Bottling State: Wisconsin, USA (Dancing Goat)
Mashbill: 95% Wheat, 5% Malted Barley
Info: Cask Strength, Unfiltered, No Additives, No Coloring
Tasting Notes: Older and bolder means what it says. This was the first single cask from the lot that made me say "we need to do something with this!". This is where it all began. There's a touch more oak, spice and candied ginger, a faint pop of tannin on the back palate. The nose in on brand, showing pancake syrup, brown sugar, pleasant tobacco, brown butter and clove. The finish is longer, leaning in with a touch of spice not found in Wheated Welcome.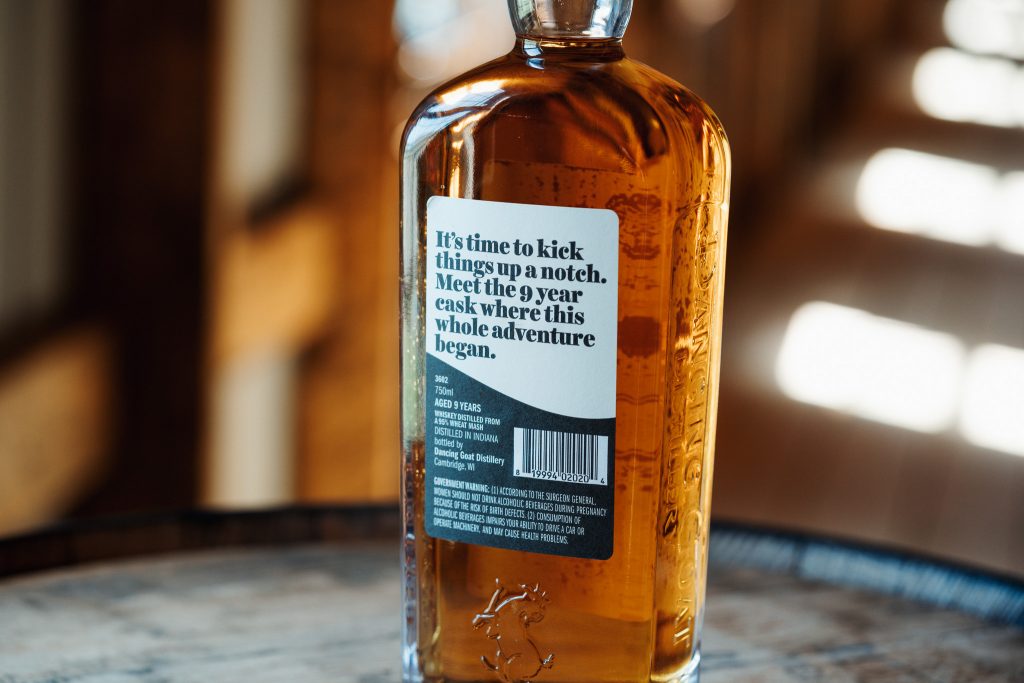 ---
Many times, folks overlook how much impact the barrel has in maturation. I don't mean in general – yes, maturing over years in a barrel invokes huge change to a whiskey – but I mean the individual whiskey barrel itself. Barrels maturing directly next to one and other can come out with noticeable differences, and that process was the focus for this second release in the Wheat Project.
Each release in the series of this project is built with a core ideal in mind. The first release (Wheated Welcome + Older & Bolder) sought to establish the principle ideas of a project:
wheat whiskey
used cooperage
a product intended to age for 10+ years with releases across that entire span
fighting heavy tannin and over oaking
If I was going to invest time and resources into brining something to market, I wanted to ensure It was without parallel in the world of whiskey. Each release will keep in mind those core principles, while tackling various elements of whiskey making I want people to experience for themselves. Therefore, I introduce, the next two single casks in our wheat journey together. The names of these casks and their back verbiage both tie into two popular culture references that have rested on my conscience for years.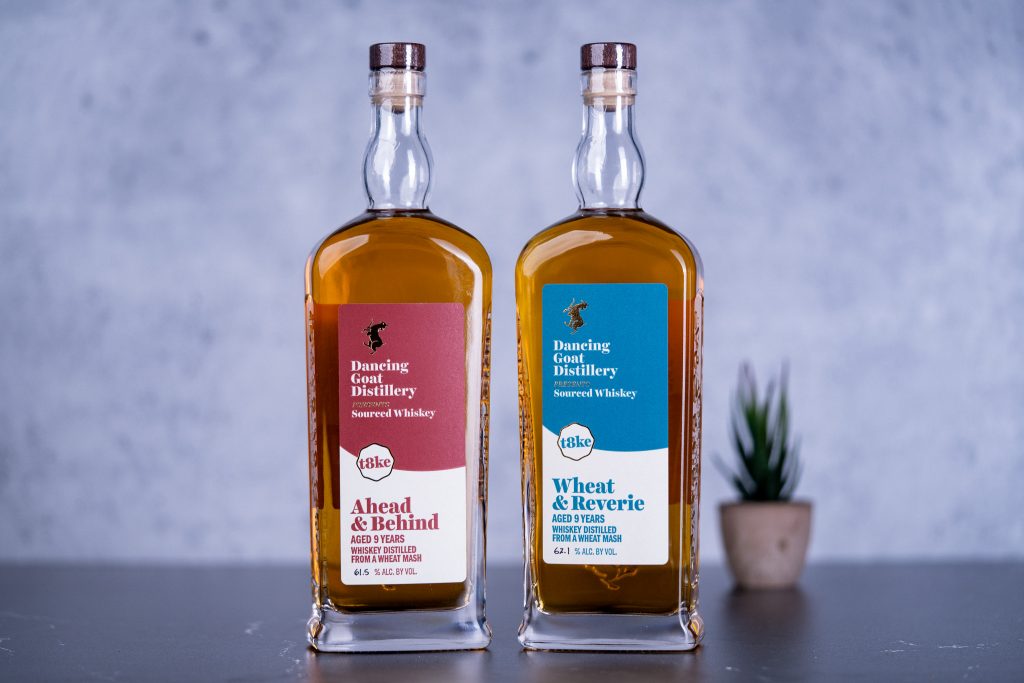 Release III: Dancing Goat Presents T8ke – "Wheat & Reverie" 9yr Wheat Whiskey Single Barrel
Reverie, a term many people heard for the first time in the first season of Westworld, describes a moment of being lost in your thoughts. A pleasant daydream, a slice of time detached from reality with a dream in mind. Reverie is the intersection of a musing and a fanciful idea.
When I approached Dancing Goat about the Wheat Project, it had been something that had captured my attention for a good long while. But, it was a reach. A wild idea born from a daydream. It was a fanciful idea. But, they shared the enthusiasm of my thoughts and provided the building blocks to turn an opulent daydream into something much more.
ABV: 62.1% ABV
Age:  9 Years
State of Distillation: Indiana, USA (MGP)
Bottling State: Wisconsin, USA (Dancing Goat)
Mashbill: 95% Wheat Mashbill
Info: Cask Strength, Unfiltered, No Additives, No Coloring
Labeling: Fully Custom Label
Tasting Notes: Wheat & Reverie opens with pancake syrup, generous clove, rich demerara and sweet waffle cone. These barrels over the 9yr hump pick up a bit of extra ABV, and Reverie sits at 62.1% ABV. Despite the hefty proof, the palate is full of light tannin, brown butter, salted caramel, a touch of toffee and pleasant apple and orange peel. Easy drinking, the introduction of some pleasant, gentle tannin rounds out the palate, allowing proof to rise along with complexity and viscosity. Long finish, heavy on maple and cream, a light maple character with a hint of brown butter. 
Release IV: Dancing Goat Presents T8ke – "Ahead & Behind" 9yr Wheat Whiskey Single Barrel
Eternity lies ahead of us, and behind. Have you drunk your fill?
An old quote, from an old, old game that shaped a good bit of my upbringing, Sid Meier's Alpha Centauri introduced a number of ideas in the nearly 10 years that I enjoyed it before it would stop running on computers that I owned.
One of many quotes that stuck with me over the years, 'Ahead & Behind' draws inspiration from those few words. The fourth release in the Wheat Project, it's a celebration of ground covered thus far, and an invitation to many wilder things to come. A sister cask to Wheat and Reverie, it aged for nine years in the ricking side by side. We've come a ways, but there's so much farther to go.
ABV: 61.5% ABV
Age:  9 Years
State of Distillation: Indiana, USA (MGP)
Bottling State: Wisconsin, USA (Dancing Goat)
Mashbill: 95% Wheat Mashbill
Info: Cask Strength, Unfiltered, No Additives, No Coloring
Labeling: Fully Custom Label
Tasting Notes: First tasting notes read: "huge nose, sweet tobacco, bang bang". Second, third, fourth and proofing tastings all share the same, this cask leans heavier into savory dessert character. No fruits here. Sweet maple candies on the nose pair with caramelized sugar, butterscotch and a dash of pipe tobacco. The palate is rich, full of sweet maple, tobacco, werther's candies, brown butter, a dash of pepper, heavy clove and a pinch of baking spice. The finish moves on more quickly than Reverie, subbing fruit and dessert notes for spice, a pinch of clove and creme brulee all the way out of town.