as you may recall, I was currently in Portland, Oregon. Later today, today being a Thursday in the past, I needed to be in Seattle, Washington.
That meant we had a drive ahead of us. It was going to take all day, but that was ok, because I had a couple stops to make.
My grandparents are getting up there. They've always lived in southern Washington, and I remember visiting them as a kid. It would take a couple hours in the car, much longer felt back then when I was young and bored and restless and rightfully did not get access to a keyboard. But, since obtaining a drivers license, I'd never made the drive from southern Washington to Seattle. As you may recall from a past post, I mentioned I was born in Washington.
I figured I'd stop in and visit the grandparents – they had recently moved and I also wanted to check out the new digs. They also let me know there was a brewery in town we should check out. When grandma suggests a liquid lunch, you listen up. I drove on up in the morning and spent a couple hours with them, and capped it off with a great lunch in downtown Vancouver, Washington. Getting to see them was an anchor of my trip, and honestly I placed the distilleries on both sides of that marker because someday I won't have that stop to make, and I never want to regret it. All the whiskey in the world can't top a good time spent with family.
That said, there was still whiskey work to attend to, so it was time to hop in the car. I was excited to get on up to Seattle, because we had a banger of an evening planned.
As I've mentioned previously, I'm somewhat of a value traveler. I had a rental car I'd no longer need once I got to Seattle so my tiny brain hatched a plan I thought would be brilliant when I set up the trip. The plan was to drive my rental up and return it at Sea-Tac, then light rail into the city, then check into my hotel, drop my stuff, and then meet up with Jason and Jeff from Copperworks (by way of scooter, of course) so we could get this whiskey adventure back on the rails. On paper, it was a good plan.
At this point, I've taken 11 different one way flights this year. It's a wonder the TSA hasn't detained me for one reason or another with all of these. Rental car companies don't love when you pick up in one place and drop in another either, but I got it all set up before arrival.
It's a scenic drive north, and goodness there was some traffic, but I made it to Seatac only a little late, but not too late. Unfortunately in the return garage, someone literally rear ended my rental. Bright side: it was also an Avis car. It was more of a love tap, and it was on film. I let them know I was on a time crunch and they told me to scram. Back to being thankful I had the Malibu and not some actually desirable expensive car.
In my utopian planning I thought I could just grab the light rail from the rental call drop off. Nope, that required a bus ride across the terminals. Then a slow jog. It could have been a quick jog, but I'm a slow jogger.
I punched my ticket, snagged the rail, and I was headed north. I caught a quick snooze – my stop at West Lake Center was near the end of the rail and I set an alarm. Best laid plans, I couldn't sleep. This wasn't a plane, after all. No soup for you.
I screeched into Seattle about 25 minutes later than I wanted to based on the bumps of the whole car switcharoo. So, I skipped the hotel.
Like a lovable idiot, I rolled into Copperworks Distillery right on the water in Seattle with my luggage in hand.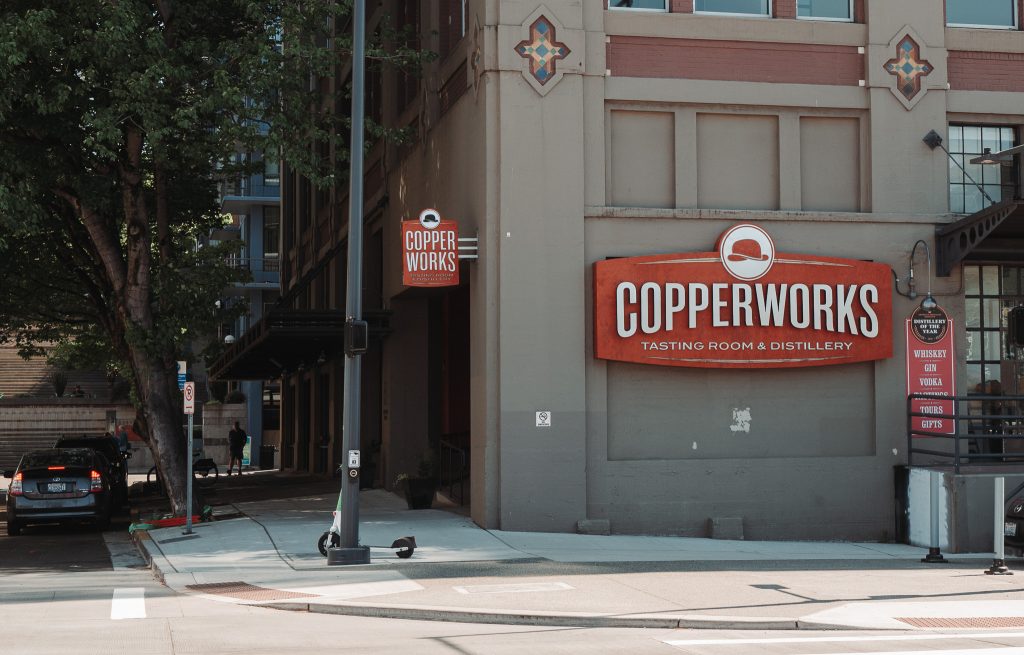 A year prior, Jason and I had the pleasure to spend some time and get acquainted over a meal and drinks and samples and a distillery tour. This year, I also had the pleasure to meet Jeff as well. The pair are the power and force behind the brewer-first single malt producer in Seattle and I was so thrilled to meet them both. I was also hungry. It had been a day. And, typically, where there is whiskey, there is food. But, first, whiskey.
We took a look around, caught up a bit and then got started with a table full of samples. It's kinda hard to roll up to the distillery and not want to pick another single cask or two, and they were prepared.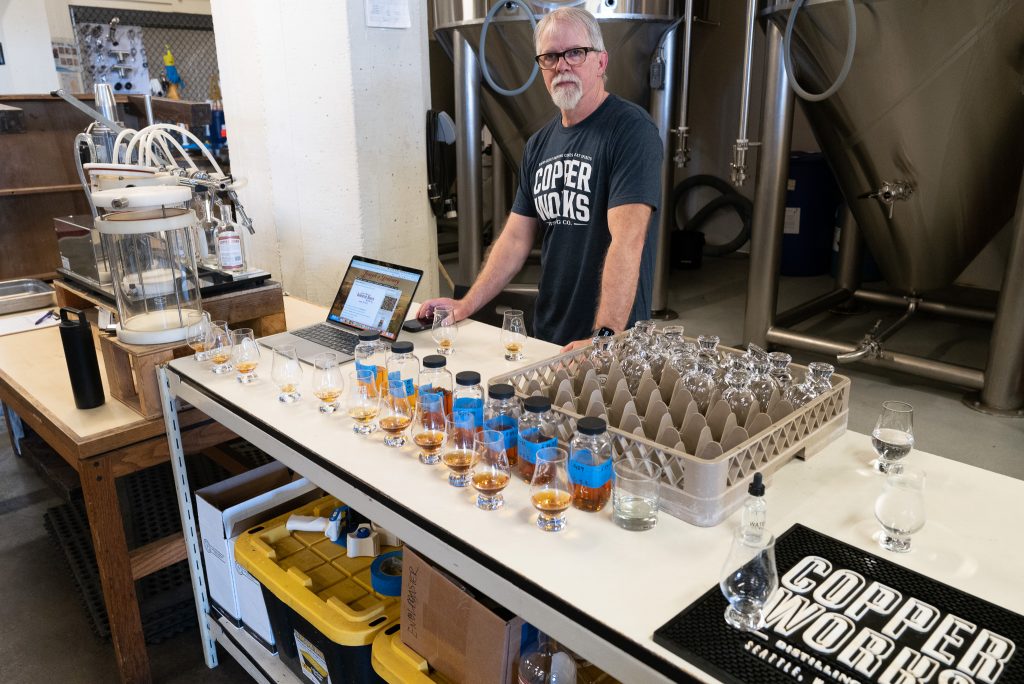 Jason is happy in this picture, I swear. Here you can see the first round of samples, and there's a wide variety there on the table. We tasted through all 8 through several rounds and there were two casks I couldn't shake.
One was produced exclusively with Baroness malt, grown exclusively in the PNW by a single farming entity, and the other was an older single casks using used cooperage (their speciality and a huge passion of mine). The one two punch of these really helped accomplish two things: a spotlight on something so intensely indigenous, as well as a perfect, older, follow up from last year's cask that was a cult favorite.
If you couldn't tell by now, I have a lot of interest in how single malt is being produced and sold across the US. I especially have a soft spot for the Pacific Northwest. This opportunity at a cask produced with Baroness malt was so interesting and cool to me, coupled with being a blind favorite due to being damn delicious was a win win for me.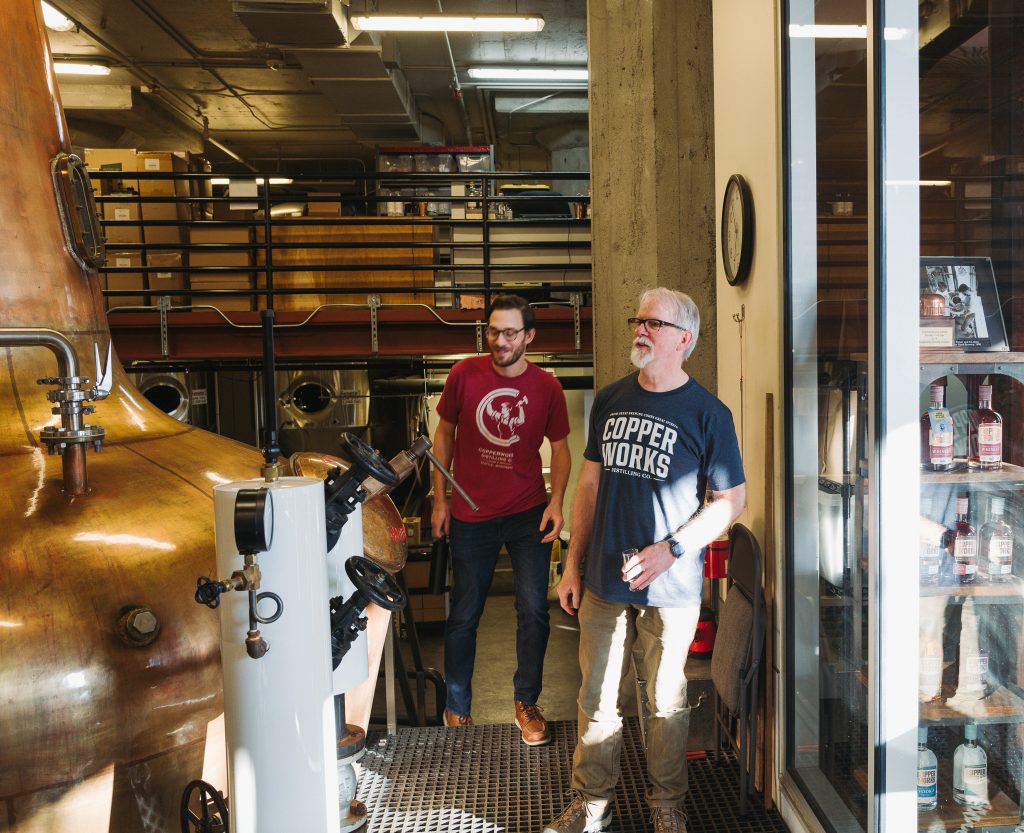 I had a tough choice to make – there was something so cool about having an older, follow up to the previous cask we did with a couple more years of age on it. On the other hand, Baroness malt was almost too cool to stop thinking about.
If you've ever traveled with me, I can't sit still while I'm thinking or talking on the phone. I pace, but in laps.
I shelved the idea of which cask I had to take and had Jason and Jeff show me around now that their distillery was filling up with casks. The sun was also hitting the stills and the tasting room and it was a surreal flavor of scenic.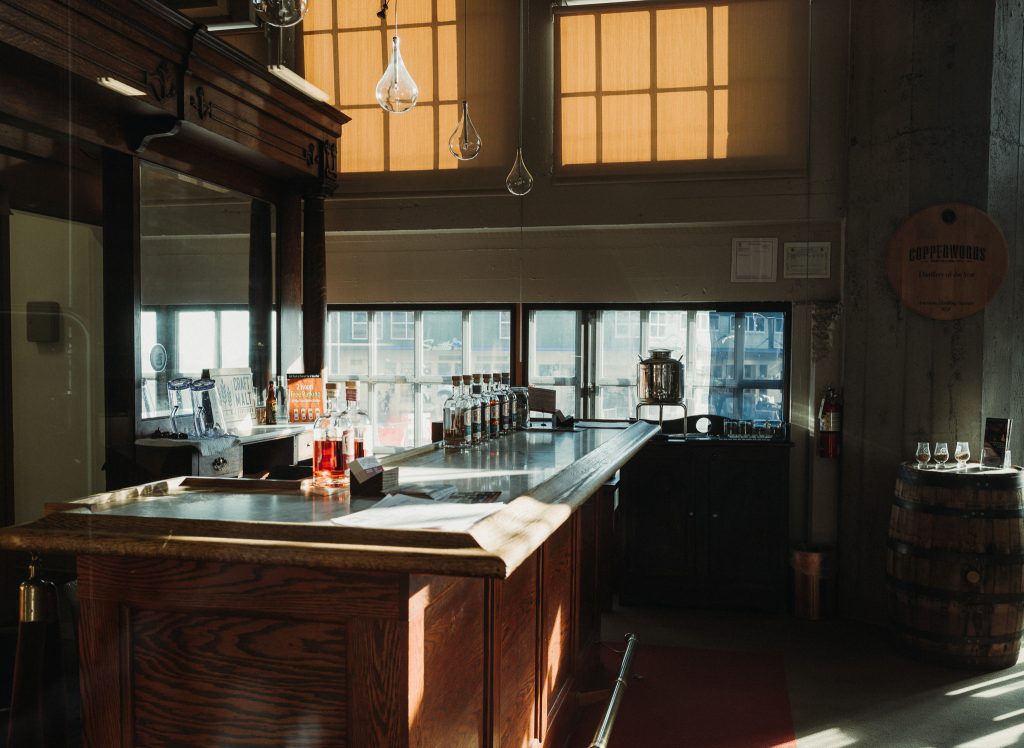 We chatted about their stills, Forsyths in origin and reflect their notable history as brewers and brewing-first distillation (sensing a trend on this trip?)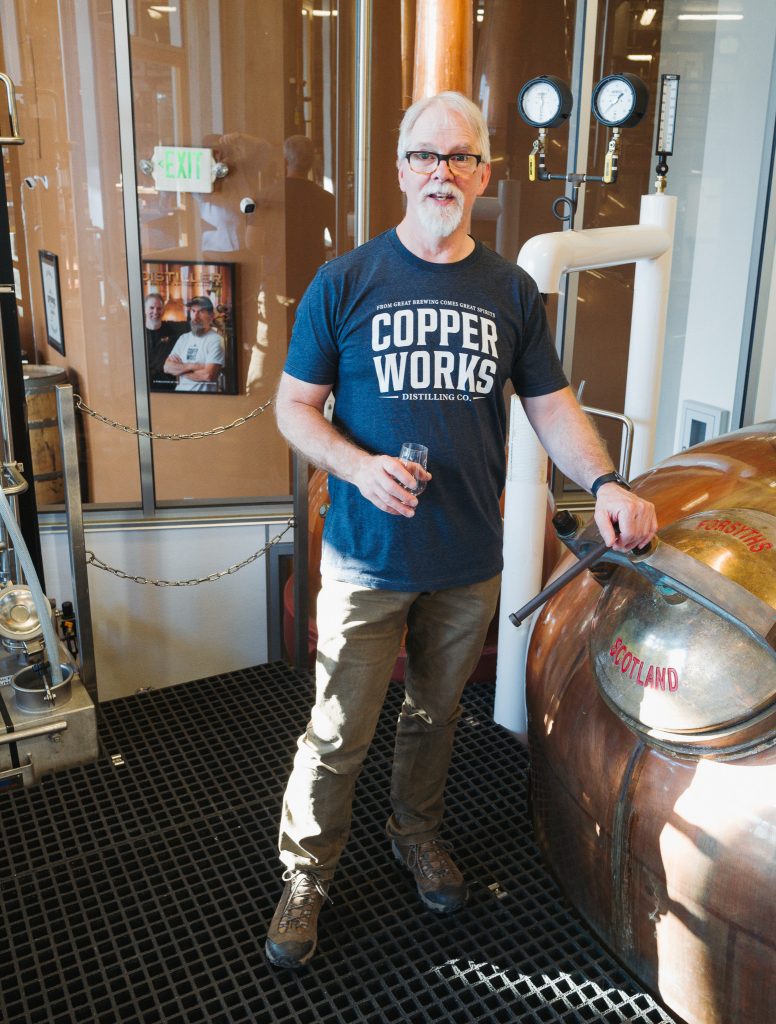 Jason was showing me around and Jeff offered to grab me something he assured me I had never tasted. My ears perked up at that.
All the whiskey I've tasted from copperworks has been first or refill ex-bourbon casks, set up for long term aging. But, the team there also came into some really old, really storied sherry casks from Europe. Twist my arm, I had to try it! Jeff offered up a pour from a fresh thief: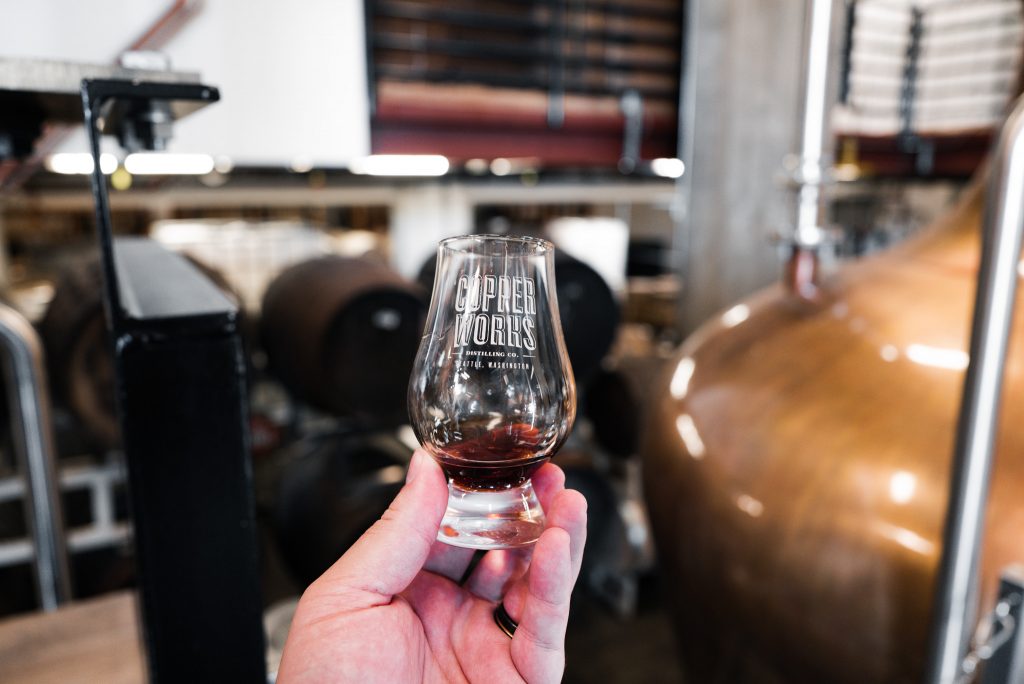 That's some dark sherry, my friends. It was an incredible, decadent pour that combined their base malt profile with raisins, blackberry, tobacco and honey. It was wild and awesome and opulent but I finally ran into a whiskey that wasn't for sale. I asked when it would be sold and they told me: "it's too cool and we don't think it's ready yet, so we'll see". I love that answer. Maybe it will peak in a future year 🙂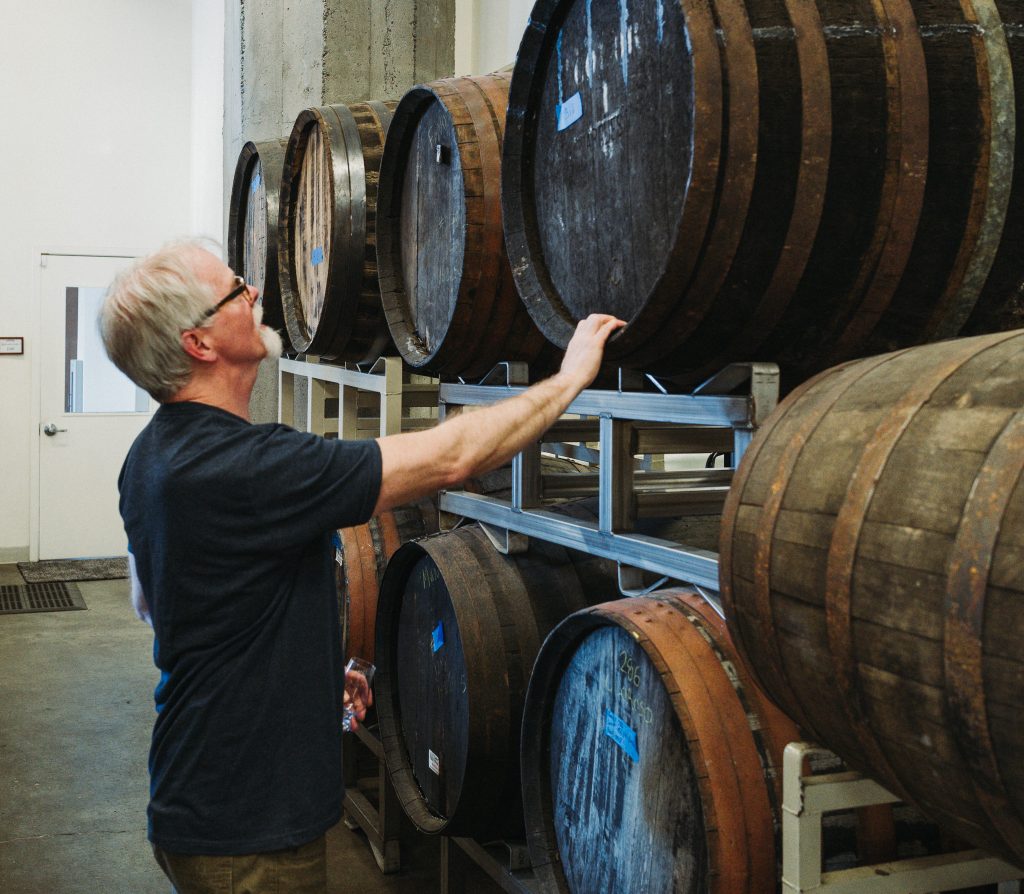 This big Bertha of a sherry cask was a sight to behold, and I encourage you to all find you someone who looks at you like Jason looks at this old school sherry cask.
We took a final walk through the floor, and then decided to head out for a bite. I hadn't eaten since the last brewery, so we figured why not one more? Tonight's dinner would come with a twist, though.
At Jason's suggestion, we took a wander on down to Here Today, also on the water in downtown Seattle. It's a brewery, a smash burger paradise and also a full bar: except you choose the booze.
Every cocktail on the menu is unique, and the only thing missing is their description. They're all built to work with agave, gin, vodka or whiskey. Talk about a unique experience. I'd never experience anything similar – a bar where the booze was on your decision, built to balance sweet, spice and citrus for a number of spirits. I was doubtful, but it worked.
That said, their beers also looked great. I was done driving, my day was almost a wrap, I guess a beer, a burger, and a cocktail wouldn't do me in.
It's an awesome spot. I can't recommend it enough if you're in Seattle.
The hardest decision of the day wasn't what spirit to pair with my cocktail though – it was what cask to pick. Some decisions just can't be made easily, and therefore, there was no choice but to select both. A duet of Copperworks would come home with us that day.
Jeff and Jason and I chatted a bit over our meal and our drinks, we talked events, brewing, single malt celebrations and some [redacted]. I love seeing these guys and would encourage anyone who's not yet been to check out their tasting room down by the piers and Pike Place in Seattle.
It was time for us to split up, and Jeff kindly offered to drive me and my luggage to my hotel. Little did I know, it was a block away. It felt like that scene in Austin Powers. It was time to check in, dump my memory card and get some sleep before a long day with the crew at Westland.
More in Part V