I've had a lot of crawfish in my life. It's awesome stuff. But, I've never had it fried. I couldn't tell if I was in for a bastardization of a mainstay, or a new favorite. But, I'm open minded.
My errant scootering took me down to the water, I puttered around a bit, and zig zagged my back back up west of the river. I ended up at what appeared to be a fairly popular local joint called Jakes Crawfish.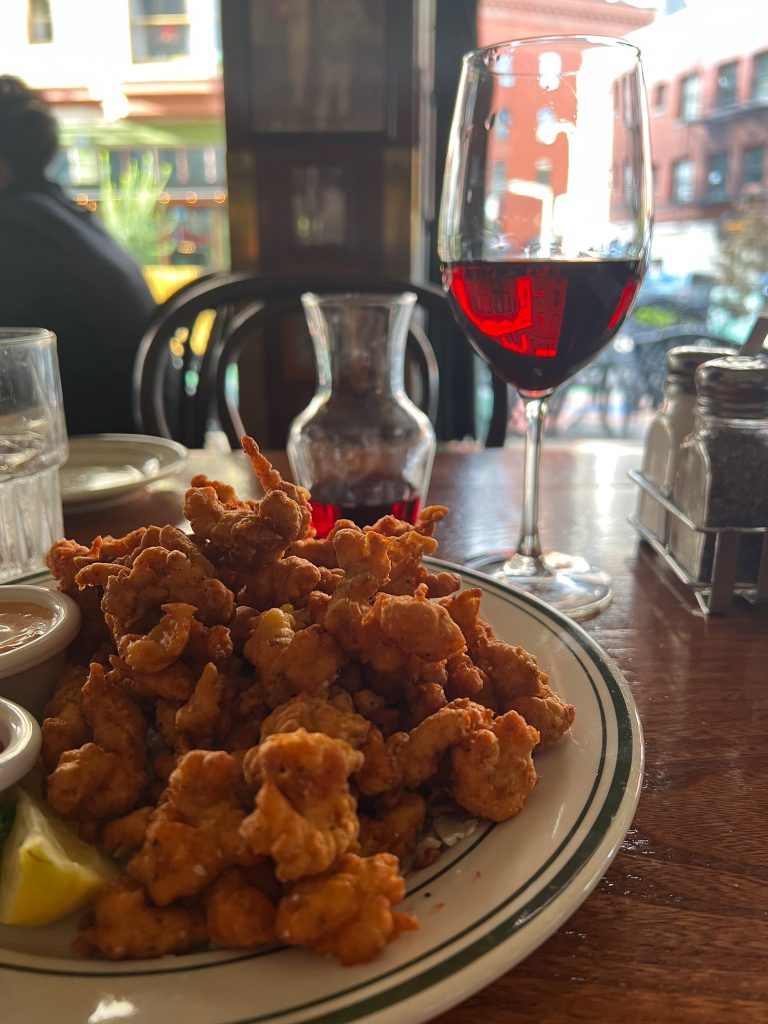 Pinot Noir and fried seafood? What could go wrong. Honestly, it was awesome. Sweeter and a much more satisfying texture than fried clams or popcorn shrimp. Consider me a fan.
I snacked, satisfied I found some solid food (I also had a salad, but who takes photos of salad), and then headed back to the hotel. I charged my stuff, took a look at the days pictures (I'm really trying to take more pictures on the road, I'm trying!) and decided to crash for the night.
The next morning I was up and at it, again just as early as the day before. I ate breakfast with about a hundred Columbia employees, and then caught an Uber to snag my rental car. Where I was going, a scooter could not go. We were going to Hood River!
For the first time in my life, I made a wildly responsible choice. I had reserved something akin to a Toyota Camry for a rental car. I'm all about the value when on the road. They did try and offer me a red Dodge Challenger. I said no. I was being good. I got in my Chevy Malibu instead, and headed for Hood River.
In Hood River is a small distilling operation helmed by a good friend of mine, good ol' Joe O'Sullivan. If you're in the Aficionados Discord Server, you've probably run into Joe. He's also a good dude. It's good to know good dudes.
In 2022 we released a batch of high proof, unaged Pear Brandy thanks to Joe and Clear Creek for Aficionados. Since I would be in Portland and headed north to Seattle soon, it seemed silly not to make the hour drive to see Joe and his crew. My buddy Dan joined as well and we were soon to Clear Creek. Hood River is a ways out there, there's only one road to get there and it's under construction.
Due to my policy of not driving and handling a camera, I'm a little light on images from the drive. But, it was gorgeous. I immediately regretted my responsible choice to drive a Malibu and not a sports car. Drat.
We arrived and hopped right into the distillery. Clear Creek has a number of stills, and they're responsible for making all manner of malt whiskey, fruit brandies, gin, vodka and more.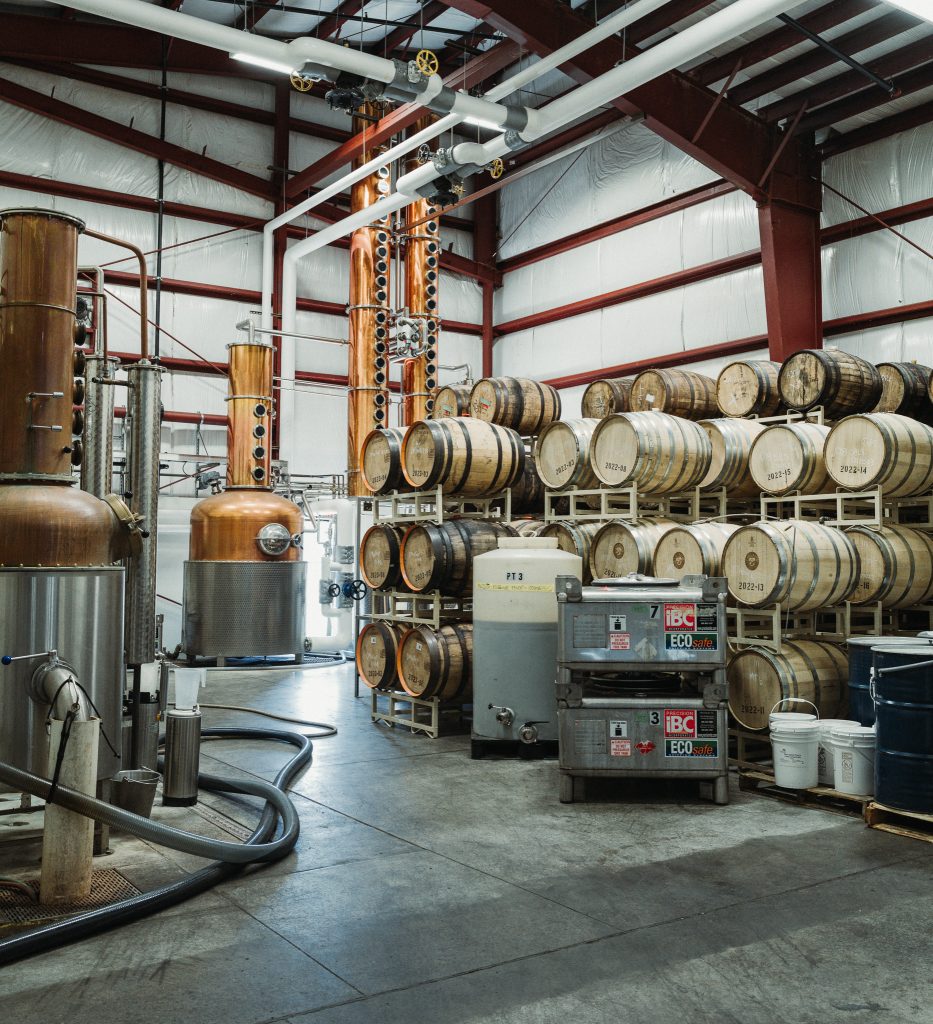 It's a cool spot. Glad I brought my camera.
Joe decided that there were two items on the agenda that day. We were going to drink some stuff, and then we were going to eat tacos. Good guy Joe, lemme tell you. If that doesn't sound like a plan, I don't know what does.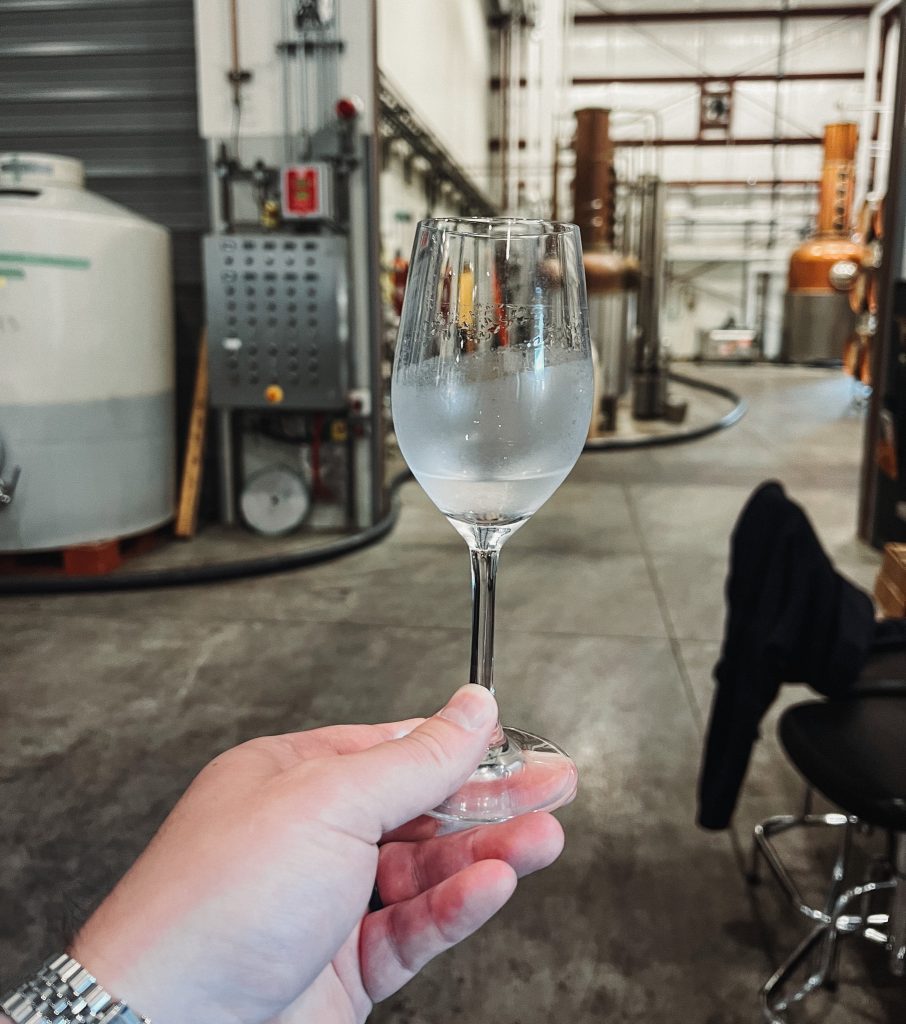 We started with some chilled vodka. I shit you not. It was honestly pretty great, for vodka. We moved to Slivovitz and some berry distillates as well. Pear, plum, raspberry. Yum. If you've never had eau de vie (unaged fruit distillate), it has a delicious freshness to it. It pops, is bright with fruit, flavor, acidity, viscosity and a super clean finish.
We moved from chatting on the distillery floor to their barrel room. Clear Creek has a barrel room and it's full to the brim. There are just a few hundred barrels, and that's it.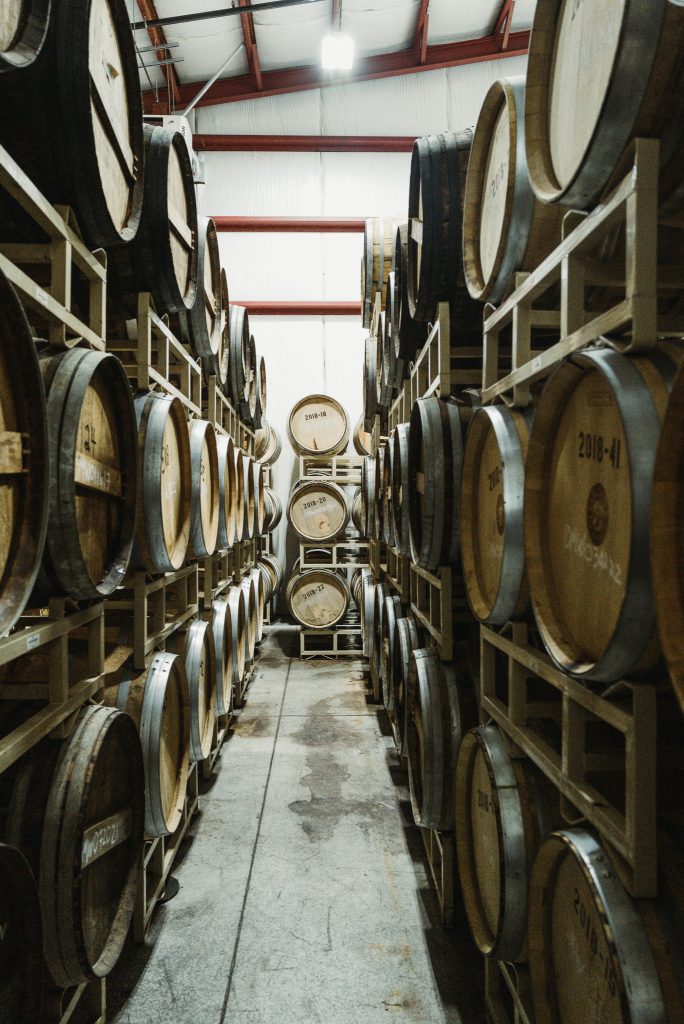 It's a tight little space but we made it work. We tasted the newest McCarthy's Special Release Oloroso against last year's (the PX). Many folks don't know but Clear Creek is the producer of McCarthy's, a hugely successful and popular peated American Single Malt in the PNW. Sensing a trend? Awwwyeah. It's all still about the single malt, baby.
We additionally tasted some [redacted] – I knew we were going to need a barrel of that for the group. We also tasted a barrel of 14yr [redacted] and that was a winner as well. I had come just to hang out and have some fun with old friends, but it looked like some whiskey might be on the menu after all. We tasted a few more things while we were at it.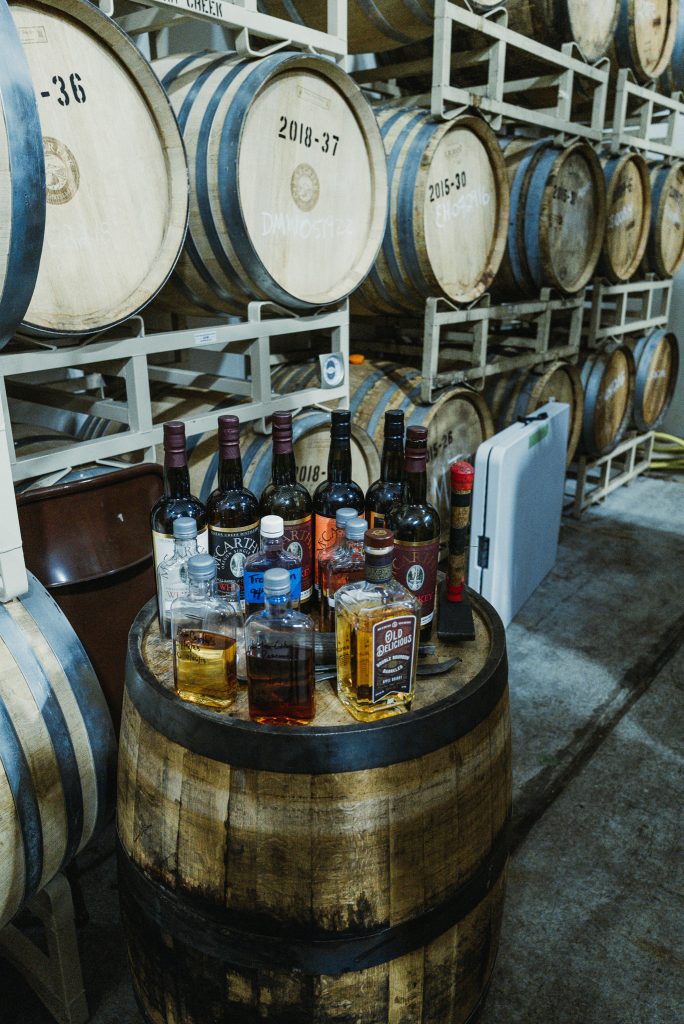 The end docket didn't look too shabby. If you haven't tried McCarthy's, you're overdue. Seriously, go give it a go.
We left the barrel room after a small sip of their oldest barrel ever (this one wasn't for sale) and that was a high note for sure.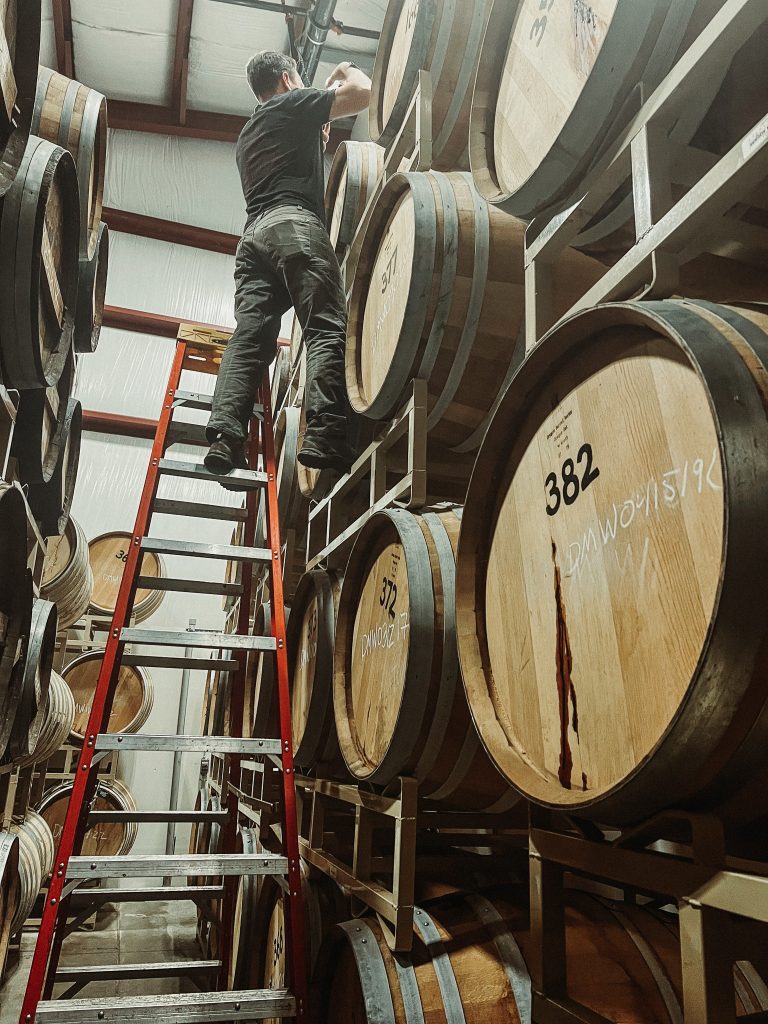 When I say Clear Creek makes a lot of stuff, I'm not exaggerating. Before we headed off for taco time, we tried a bit of cranberry liqueur, tropical fruit infused gin, fir and more. It's a small facility, but if you ever have a chance to visit when they're having an open house or event, do it. There isn't a gift shop or anything though so don't head up there without dropping them a line first.
We headed off to Lake Taco in downtown Hood River and had some of the most unique, and delicious, taco style lunch. They were nice to me there. The menu had no organization. I tried to order an appetizer for an entree. They steered me straight. Dan got a burrito the size of his head. What an incredible spot.
From there, we parted ways. A tanker of wine was rolling in and preparing to unload and Joe made it clear that we were welcome to watch but we definitely weren't needed to help. I can't blame him. Tanker trucks aren't any of my specialties.
I took the long, scenic drive back to Portland. I hadn't looked at my email once all day. It was awesome.
There was work to be done and I needed to pack up and get settled that evening, I'd be heading up to Seattle the next day and making a stop or two along the way. I used the drive to proof two upcoming episodes of the Whiskey Raiders Podcast that John and I had recorded but not yet launched, and I was back to Portland before I knew it.
More in Pt IV