Landing in Portland is an interesting time. For the most part, it seems like PDX is busiest at 11pm which is unusual for most airports I go to. Or, land in. You get the picture.
It had been a long day. I'd woken up in Wisconsin, spent the day down in Chicago for a family graduation, then taken off from O'Hare on a late night flight to Portland.
I have to give Alaska Airlines credit, as they wised up to the ways of the midwest, and served a meal of charcuterie and cheese on the flight. I wasn't even in business class. That's some midwest hospitality if I've ever seen it.
I've been traveling a lot more lately than I have in the past, and it's a privilege. That said, timezones are wack. I was still on east coast time, and heading west across a couple timezones was going to be tricky. I ate my meal and elected to catch a couple hours of sleep. I can't sleep anywhere, but thankfully I can sleep on airplanes like a champ, so on went the airpods and off to sleep I went. Several hours later, I was in Portland.
The reason for my West facing travel was single malt through and through – I'd be spending the next 5 days on the road throughout the Pacific Northwest. Few people know, but I was born in the PNW, so it's always a bit of a personal homecoming when I'm able to return.
My first stop was to be at Westward Whiskey. I've selected whiskey from them in the past, but I always try and see a distillery when I can. There's something about understanding who the producers are, why they do what they do and why they do it in the ways in which they work.
I landed, as mentioned, late at night. I caught a ride to my hotel, settled and called it a night. There was some cool Portland art at my hotel and the next morning I woke at an ungodly 4am due to the time change. Breakfast started at 5am. I knocked out some work, made myself some coffee and sat tight for a bit.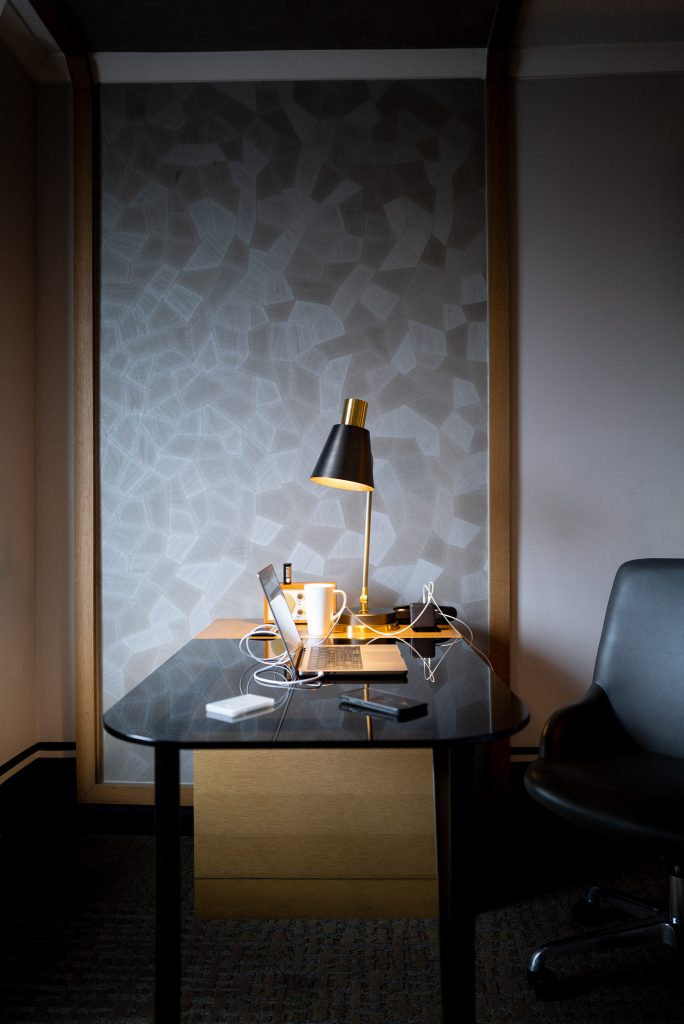 There was a Columbia sportswear conference at my hotel. Fitting for Portland. Breakfast was hopping but it was time for whiskey now.
I have an interesting ritual when I travel. I try not to rent cars when I can (they're expensive) and I try not to Uber when I can (also expensive). If I can, I take scooters. Yep, Lime scooters, Byrd scooters, any will do. They're inexpensive, they usually get you through traffic pretty easy and they let me take in the sights.
I'd need a car for later in my travels, but not today. Scooter it was. If you're wondering if you can carry a briefcase, camera and yourself via scooter across the river in Portland, the answer is that you can. You probably shouldn't, but you can.
So, I did.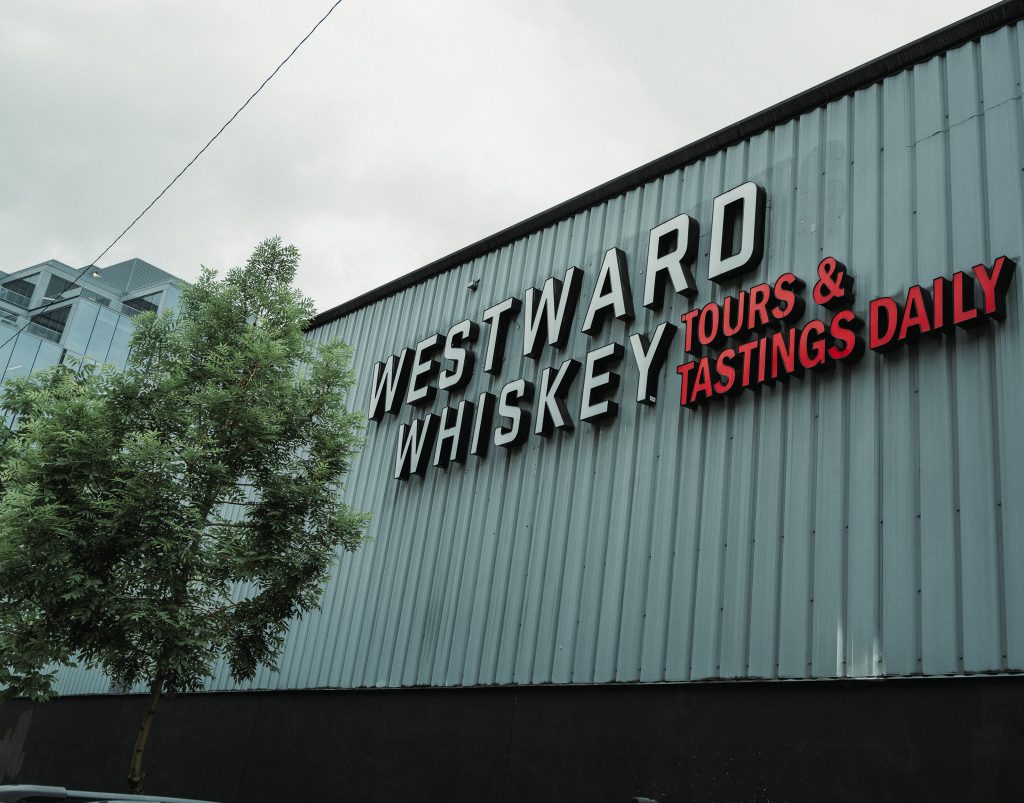 I got to Westward a few minutes early to walk the neighborhood, dodge some locals, grab a few pictures and mostly just get some fresh air.
Jonathan met me at the front door, and we got started. He asked if I wanted a cocktail to get the day started, and realizing that noon wasn't that far away, I said of course. I opted for dealers choice, and took a stroll around their main lobby while he got pouring.
Westward has put out a number of whiskeys lately, and they're proud to show them off. Their bottle design is a favorite of mine, and it captures light so wonderfully. I'm a sucker for foiled labels as well, so you can see they were batting 2/2 on personal interests when it comes to packaging.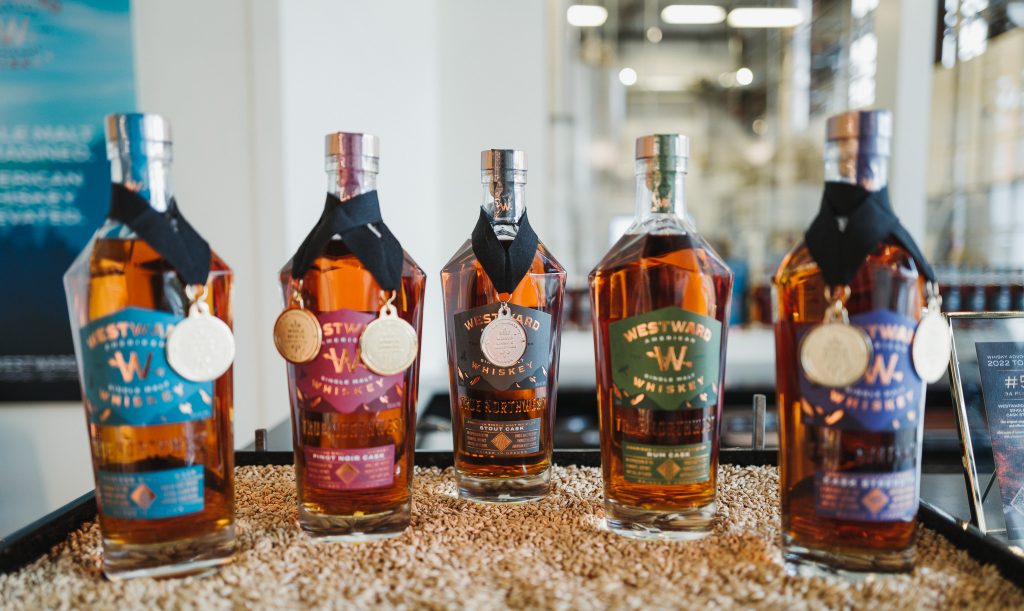 Before all good things in life, comes a cocktail. A revolver riff, made with Stout Cask, got our day moving. Boy, it was good. Jonathan and I caught up. His role in the company is to oversee events, education and hospitality. His job is to make sure that people get the full story of Westward, with drink in hand, and get to the core of what makes a small producer in Portland stand out.
If you're not familiar with a Revolver, it's one of the few great coffee based cocktails. Their Stout cask went nicely with the coffee undertones and a heap of bitters. Be still, my heart.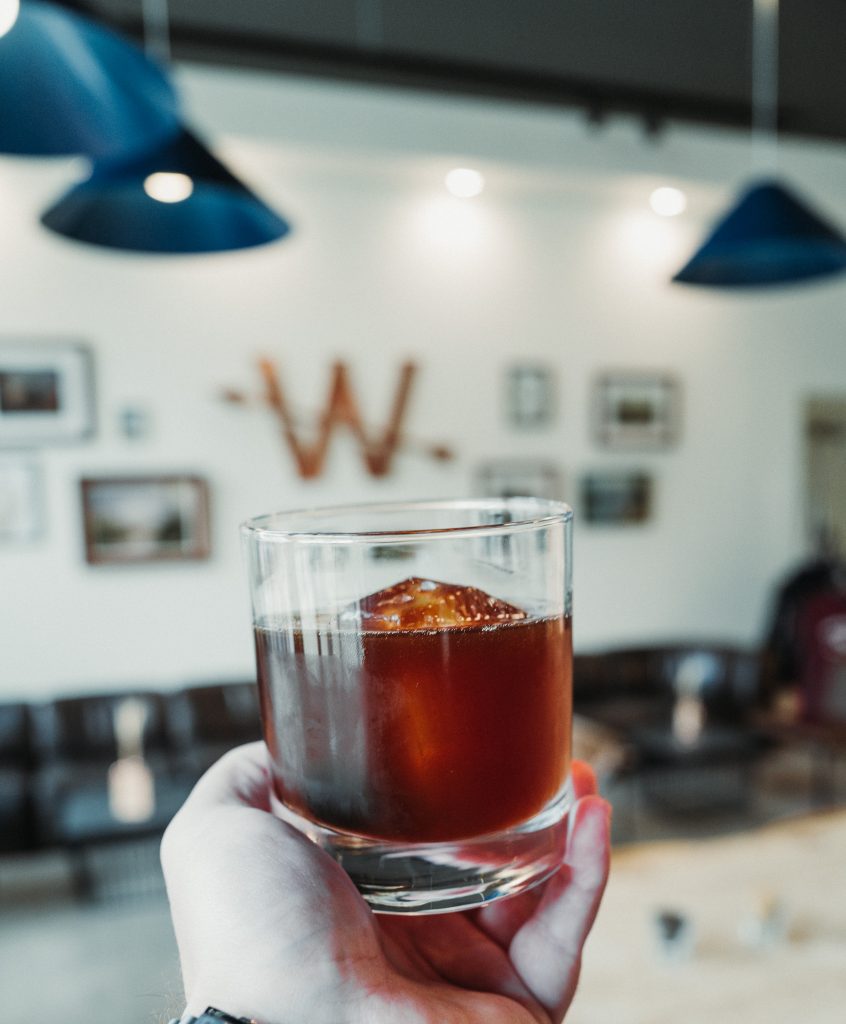 Cocktail in hand, it was time to get busy. We started a walk through tour, and there's so much to soak up.
Many folks know how distillation works at this point but oftentimes the heritage distilleries totally gloss over fermentation. Grain arrives, it ferments and boom, look at our gorgeous Vendome still.
The whole fermentation step of whiskey making is a critical component. Grains and fermentation are the cornerstone of a great mash, and without great mash, you're not going to have good distillate. Stills are machinery, they are not magic. Garbage in, garbage out.
Jonathan made it clear that Westward is particularly well, particular, about their ferments.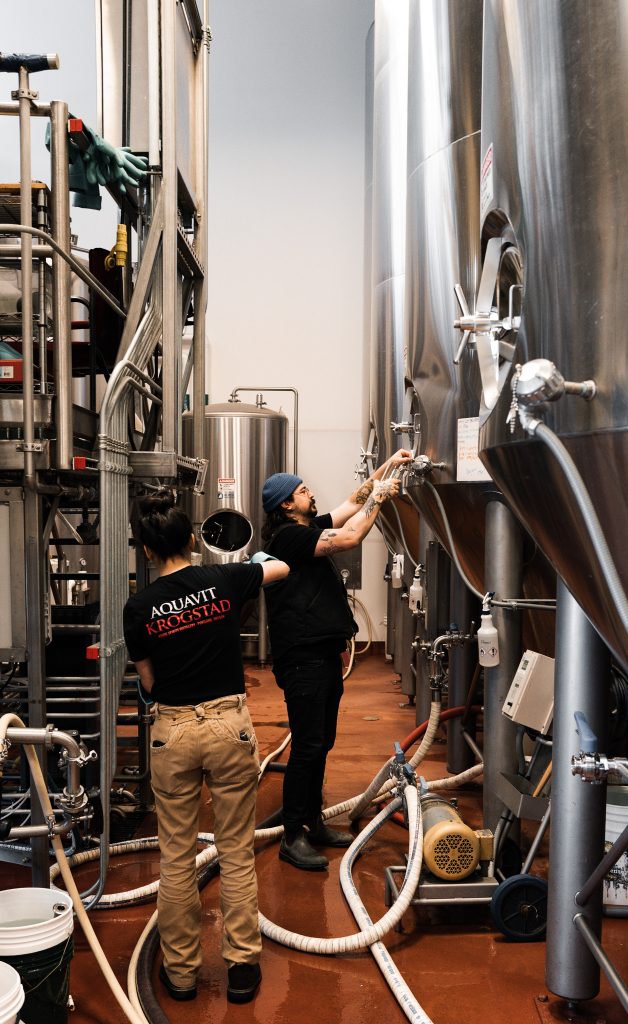 At any great distillery you should get to taste great mash. You know…beer. My favorite thing to do is drink beer at distilleries. Let me tell you, Westward had some of the best.
Instead of using distillers yeast, they opt for brewers yeast. It's less efficient, but as the name would suggest, makes for great beer.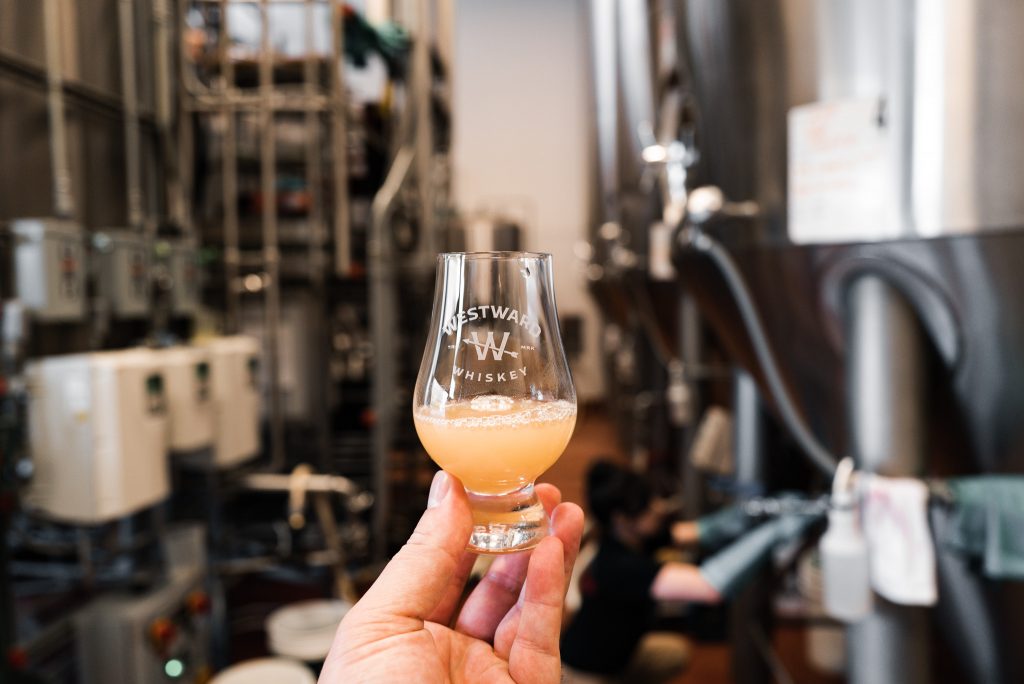 I'd have taken a pint of this for the walk through, but something told me that we'd be drinking other things soon. It drank like an crisp pale ale sans hops, refreshing.
But, we're not here for beer. Well, I'd have bought a sixer for the hotel, but that's a different story. Today was all about whiskey.
All of Westward's grain comes from the local area, sweet sweet Pacific Northwest barley. Their production was roughly 500 barrels per year with stop and start distillation, and recent expansions will push Westward to a place where they finally can ferment enough to provide the still with mash 7 days a week, boosting annual output to roughly 1500 barrels per year.
Speaking of stills…
Westward has a big ol' still.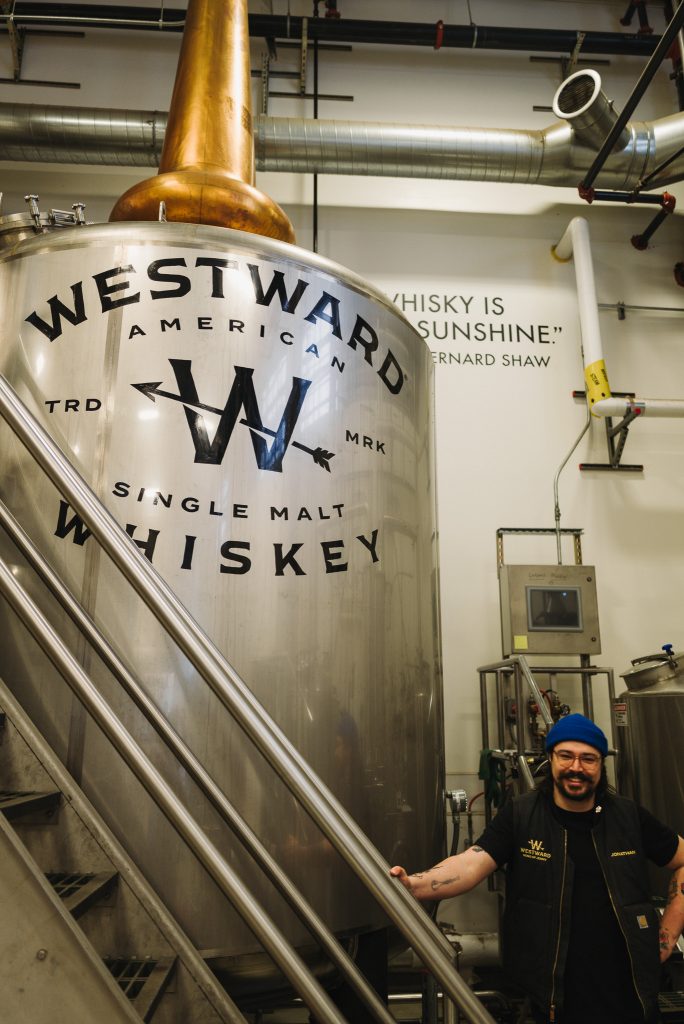 Jonathan for scale. This is Westward's newest still, not brand new, but new enough to have a little shine to it as well. This monster hybrid is setup next to their older, much smaller still, not pictured.
Both still run in tandem but this is one of the more unique stills I've had the opportunity to check out in person. A traditional copper pot still atop a monster pot, it's more like a traditional Scottish still than an American whiskey distillery. I thought that was cool as hell.
I'd had a cocktail and a taster of mash but no single malt yet, and it was time to change that.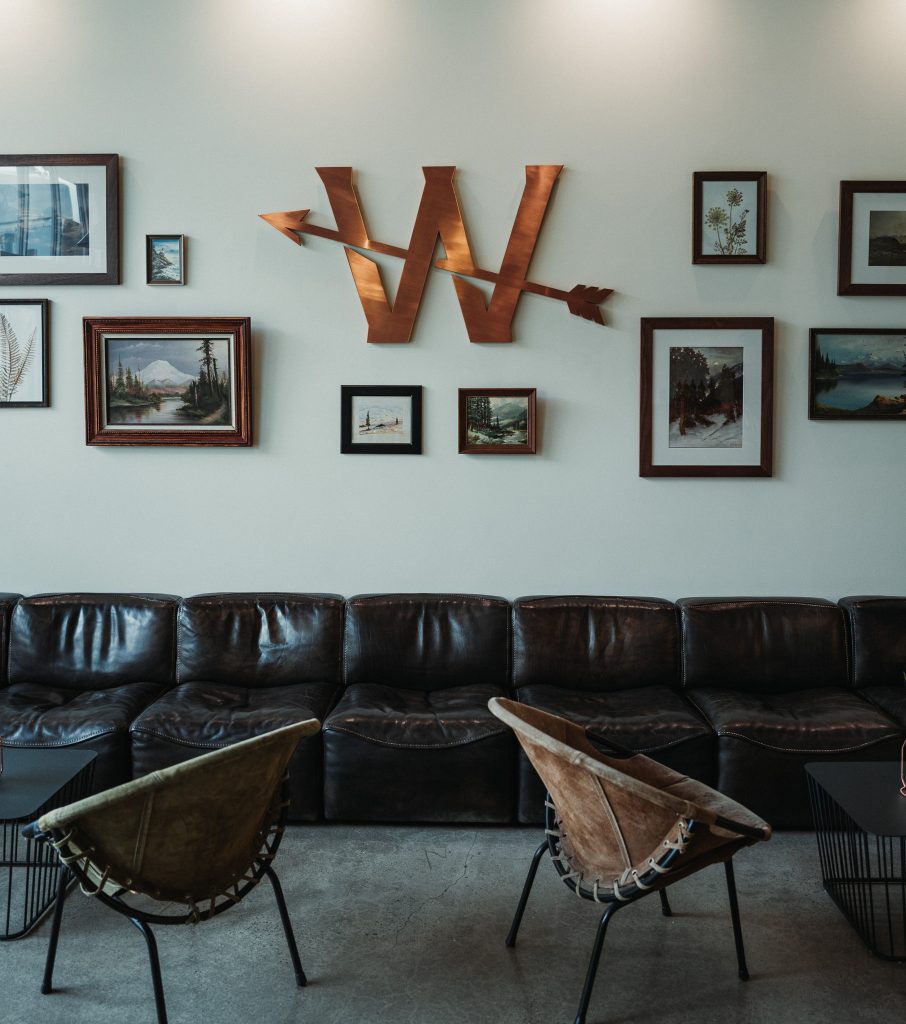 The tasting room was cozy. They were about as interested in grain as I was, which was pretty neat. I took a moment to snack on some barley.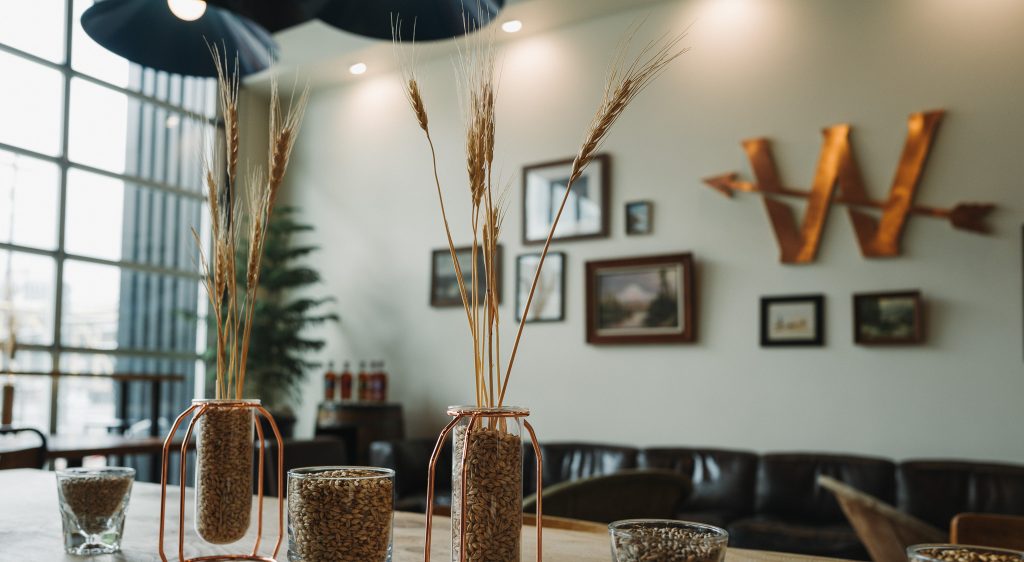 Jonathan walked me through the core portfolio of Westward, and we got to tasting. I was there to pick casks, and it's great to get an idea of each of the house releases and ideas at play. We also dug into some special, particularly old releases.
Having tried all manner of their house whiskeys, their stout cask and wine cask finishes among my favorite, it was time for a quick bite, and then I'd be off to the warehouse.
Westward's warehouse is about 40 minutes away from their distilling facility in the downtown area. It all depends on the outlook of traffic, but it wasn't too far away, either way. Their facility was among the cleanest and most well organized I'd ever seen.
I've seen a lot of warehouses, rickhouses, storage rooms, sheds, tasting rooms, rafters with barrels – I've seen it all. I almost went snowblind: I expected to head into a dark facility with dust and critters. But, no – it was a clean swept paradise.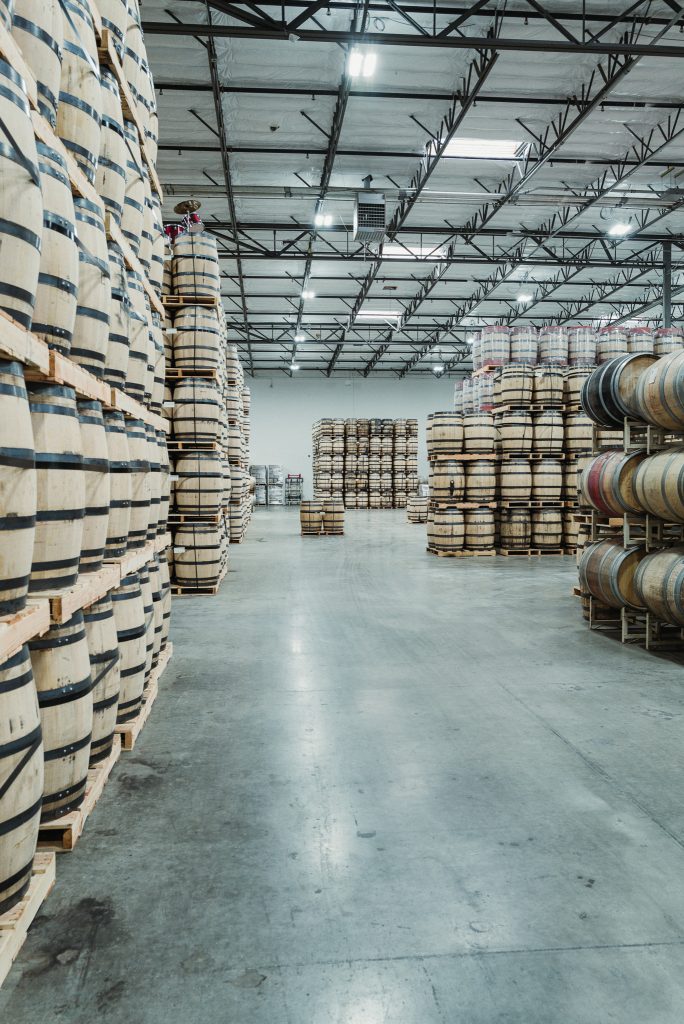 This is where we take a small pivot. I had left Jonathan back in Portland proper. We'd had a great lunch at a local butcher but he had other work to do, and I needed to spend some time with Otis.
Meet Otis. Otis oversees the barrels, warehouse and all that happens inside at Westward. Previously a brewer, he decided some time ago to branch out a bit, and found himself with about 4,000 new children.
Otis had pulled pallets of whiskey that was 1 year, 2 year, 3 year, 4 year and beyond in a cool experiment to describe by taste, rather than words, how maturation of their single malt progresses in this facility. I've not actually had an opportunity to do this elsewhere. Sure, we often taste lots of different things in a warehouse, but never a guided year by year maturation sampling, and this was incredibly educational to me.
The 1 and 2 year whiskey were not unexpected – they were young, gritty, full of young wood. Shockingly, at 3 years old, the distillate took a wild turn, developing lots of sweet oak, well developed tannin, cocoas and caramels and a pleasant mouthfeel. The 4 continued to build on that but far less extreme. I've never tasted a distillate shift like that.
We also poked through some standard single casks, some wine finishes and mostly wandered around the warehouse. I was amazed how many casks they had fit in and how organized everything was. They even had a little warehouse humor as well: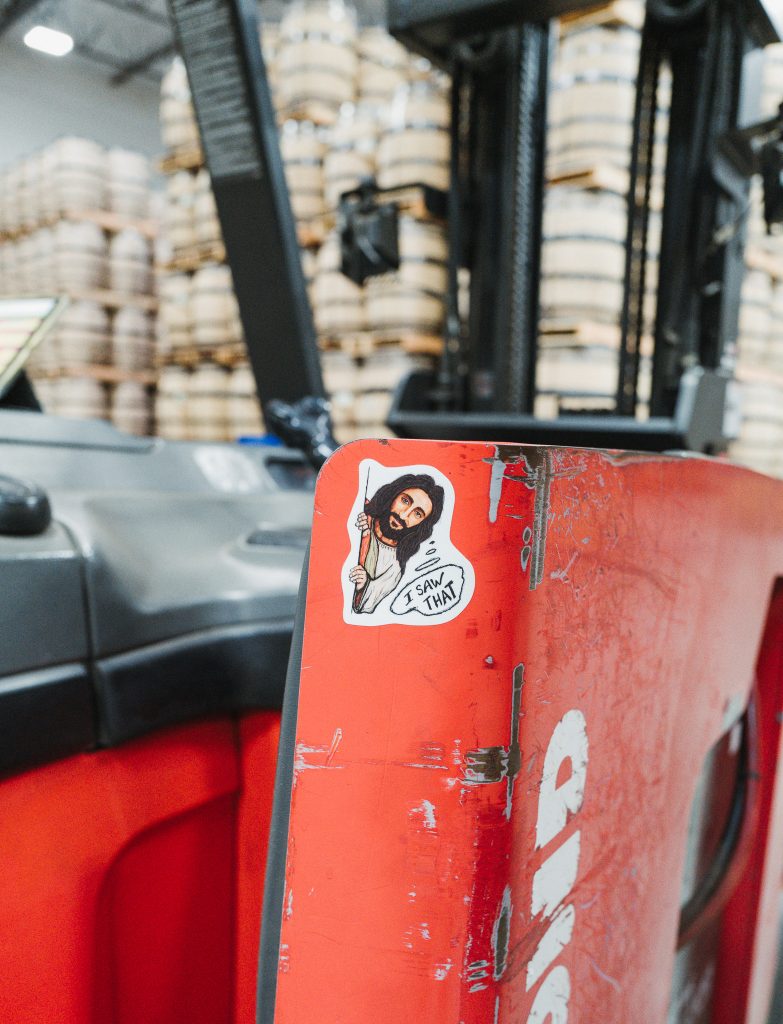 they also liked to rock out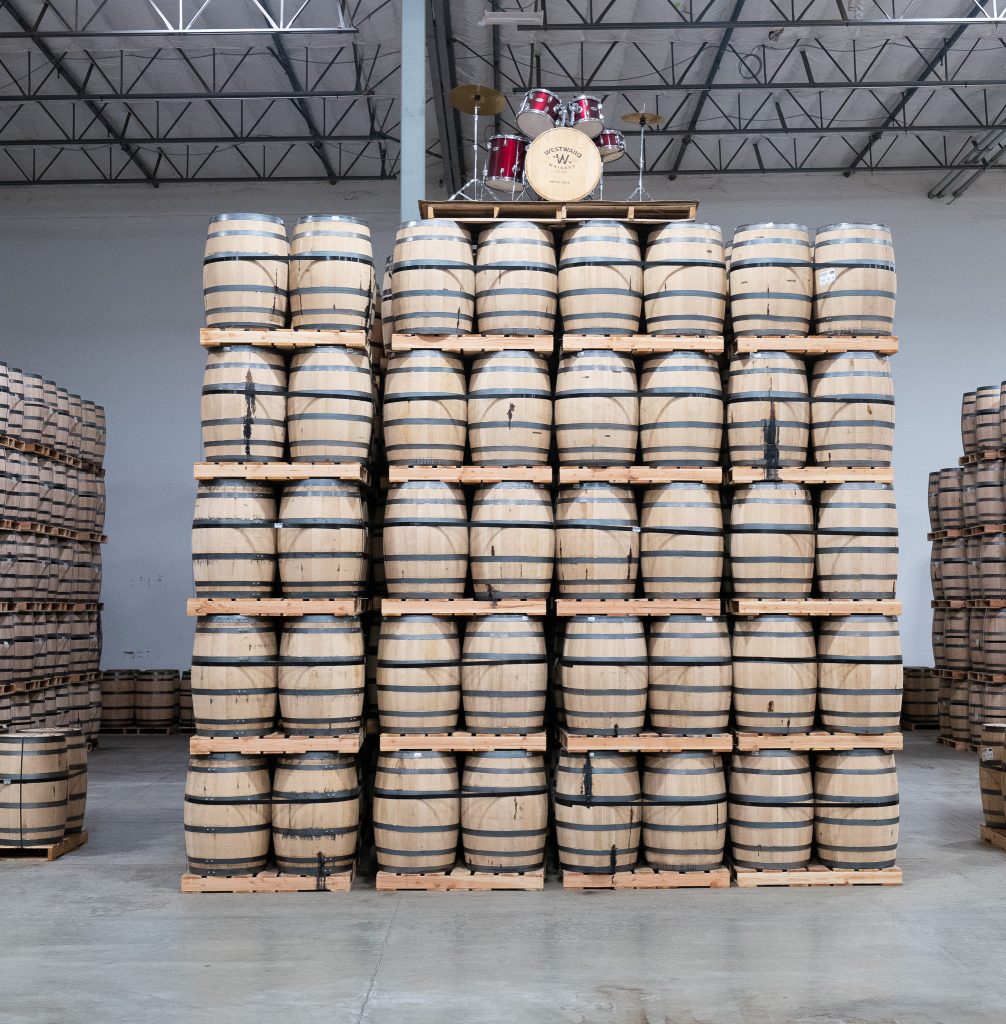 More accurately, one of the staff needed a place to store a drumset for a while, and Otis liked a nice clean floor so he used a slow afternoon to build a riser for the aforementioned drumset, and hoisted it on up.
We got to tasting single casks and worked through a variety of their standard single malt that had been aging. They also had some stout finishes as well, but ultimately I found them to be too polarizing and I wanted to release more "core" Westward first before diving right into the skunkworks.
Otis, never a man to slow down progress, grabbed his forklift and we got tasting.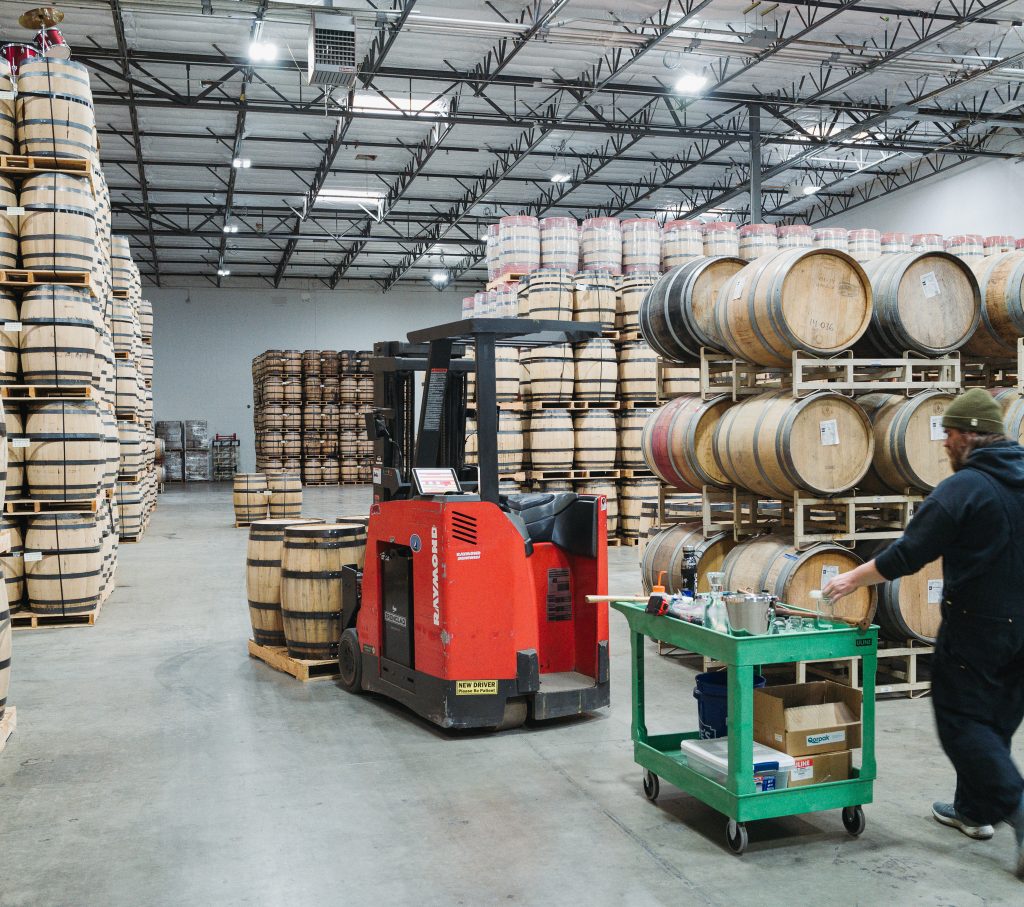 More In Part II
---