r/Bourbon 2021 Bulleit Single Barrel Selection "Y'all Like Ludicrous?"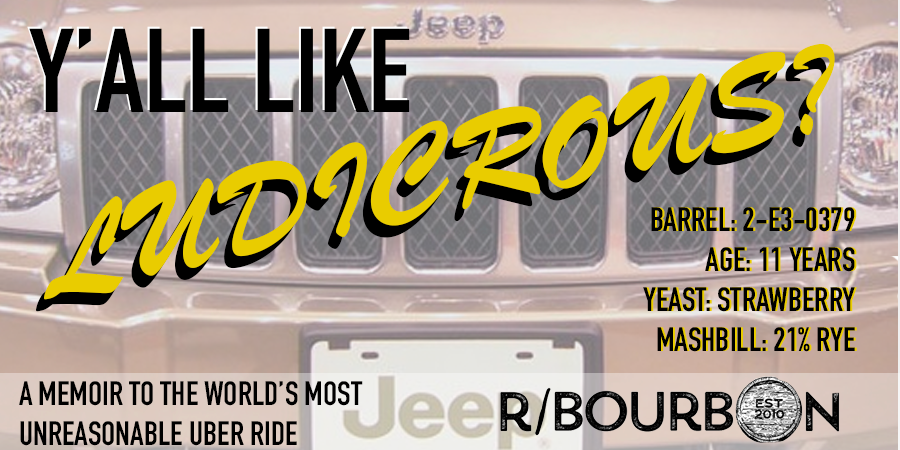 Year: 2021 by t8ke
Info: Barrel #2-E3-0379, #3 Strawberry Yeast, 11 Years, 21% Rye Mashbill
Retailer: Maison Corbeaux
Notes: Creamy and oaky, leads to a really great fruit pop. A strong tannin structure without becoming bitter or dry. The sweet caramel, berry, cream and vanilla provide a really rounded drinking experience on this bottle, drinking with a lot more viscosity than 52% would suggest.
Additional Info: This barrel name comes from what is potentially the most absurd Uber ride of my life. Catching an Uber from Nachbar in Louisville back to the Airbnb, our driver came over the river from Indiana (!!), gave us the deets on his sweet 2010 Jeep Cherokee Overland edition, and then caught us up on how he raises direwolves (an animal that's been extinct for 9500 years). After realizing that perhaps these finer pursuits of life were lost on us out of towners, he jacked the radio – but not before turning around to ask life's single most important question: "Y'all Like Ludicrous?!"
To the sweet melody of Ludicrous, we ran stop signs and accelerated needlessly through yellow lights in what had to have been the worlds least fuel efficient Uber ride, to date.